With protection from the elements, greenhouses surpass field-grown crop quality, using less water. Vine crops flourish, yielding over twice as much as traditional agriculture, with shorter cycles thanks to the ability for growers to create optimized environmental conditions for a particular crop. Further, by adding lights and layers, you can extend your greenhouse capabilities with 24/7 plant growth.
Ideal for a variety of farming requirements; garden centers, market growers, and research facilities, greenhouses accommodate diverse needs from vegetable production, flowers, and trees to ornamentals. Cutting-edge technology maximizes productivity with climate control, automated irrigation, high-efficiency lighting, sensor networks, and AI-driven analytics for pest management and decision-making, while robotic systems can be added to streamline tasks.
Selecting glass or composite panels depends on factors like budget, climate, light, and crop requirements. Options include single-layer glass for standard use, double-layer/twin-wall glass for improved insulation, durable polycarbonate with UV protection, shatter-resistant acrylic, light-diffusing fibreglass, and cost-effective polyethylene film for temporary setups.
For prosumer-grade equipment to multi-acre commercial builds, put the power of the sun to work in a high-capacity greenhouse with Cultivatd.
WATER EFFICIENCY
The use of hydroponics reduces the overall consumption of water. Solutions like trough systems, flood benches, and flood floors can lessen both the water and human labor needed to irrigate.
SMALLER CARBON FOOTPRINT
By using alternative energy resources, reducing or eliminating waste production, and modifying operations to maximize use from fewer materials, commercial greenhouse growers emit less carbon dioxide.
CONTROL THE ENVIRONMENT
Reduce or eliminate the use of chemical pesticides, adverse environmental / weather conditions, and external contaminants.
AN ORGANIC AND SUSTAINABLE PRODUCT
By reducing the use of natural resources, excluding artificial or inorganic substances, and the saving of energy and water, greenhouse growers are more successful at cultivating products that can be certified and labeled as organic and sustainable.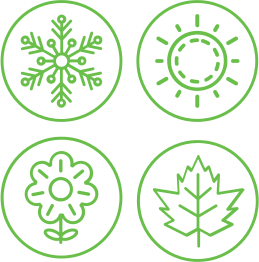 EXTENDED GROWING SEASONS
By increasing control over climate, irrigation, and heat, a greenhouse can extend the grow season, improve harvests, and boost a farm's profit margin.
CONTROL HEATING AND COOLING TEMPERATURES
With the use of heating, cooling, and ventilation systems, separate zones can be established within the greenhouse, ensuring that crops thrive.
NATURAL LIGHT
Save on energy costs by using sunlight as a lighting source, further minimizing your carbon footprint.
GREENHOUSE FARMING GALLERY
Your crops, powered by the sun, and a little help from the latest agtech.